yellow fabric on a table
2018 Annual Report
Message from TCC President Dr. Ivan Harrell
Dear Friends of Tacoma Community College,
It has never been more important to support the whole student.
We see the data: 38,000 Pierce County adults have no high school credential, and 15,000 young adults are not employed or in school. At the same time, it's getting harder for students to afford college. Unmet need for students continues to rise forcing students to make difficult choices. Sleep in the car, or take out another student loan to afford an apartment? Buy groceries this week, or buy a textbook?
And, we hear the stories. The stories of students sleeping in their cars. Getting food out of a garbage can. And yet, they still come to class, wanting a brighter future.
At TCC we're constantly exploring ways to improve the entire student experience. In our 2018-2019 Annual Report, you will discover how we strive to deliver a holistic, wraparound approach for our students. From our award-winning College Housing Assistance Program to a new food pantry, our staff helps each student choose what they need from the patchwork of services we offer. We stitch together the wraparound support they need to complete their programs, graduate, and realize their education and career goals.
That's why the physical report (PDF) is laid out like a quilt. On the front, you'll see the stories of student support innovations and the students they benefit. As with a real quilt, the back is less showy, but no less important. That's where we laid out the financials for TCC and the TCC Foundation, plus the names of the donors who help make everything you see on the front possible. We hope you'll enjoy exploring this report online, including the video showing the creation of the physical quilt that the Tacoma Modern Quilt Guild graciously agreed to design and make for us. If you'd like to see the quilt in person, it'll be presented at the Feb. 20 Board Meeting.
Thank you so much to all of the community organizations, individual donors and friends of the college who partner with us to offer these services. Together, we make a difference in the lives of students. And we make Tacoma and the South Sound region a better place for all of us to live.
Enjoy the report!
Ivan L. Harrell, Ph.D.
TCC President
New Food Options on Campus
Max & Margi Harned Titan Food Pantry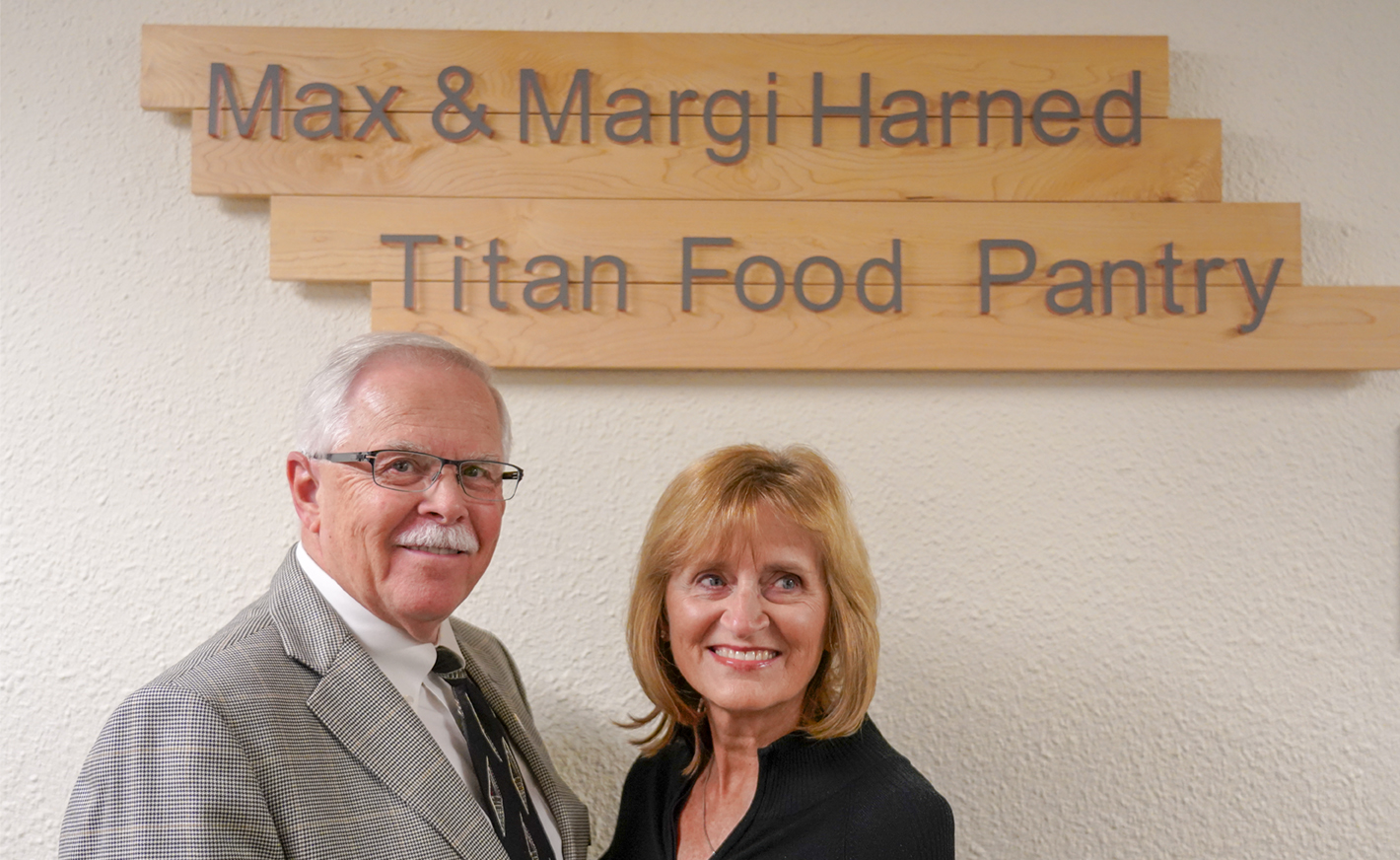 Started as a class project by TCC business program graduates Ashley Ngo and MayLonnai Solie, the Max & Margi Harned Titan Food Pantry is TCC's response to the national and local problem of food insecurity among college students.
The pantry will feed an estimated 2,500 students each year. So many students accessed the pantry during Fall Quarter that during Winter Quarter the college increased the number of days the pantry is open, bringing the total up to three days per week. We hope it will make a difference to the 40 percent of students who report skipping meals to make ends meet.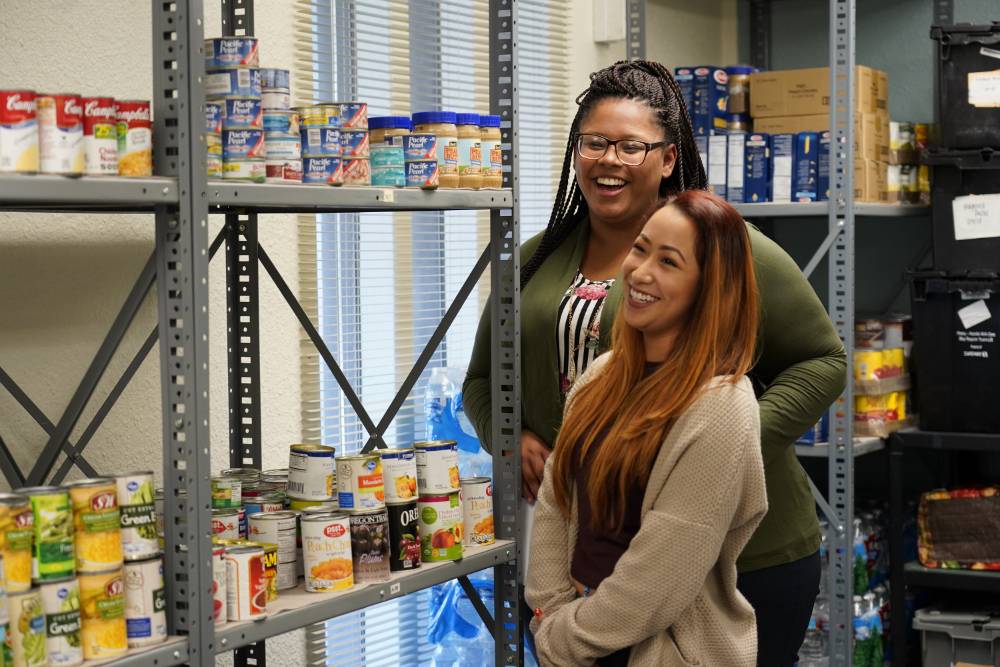 How You Can Help
Drop off non-perishable items in Building 17, 8 a.m. – 2 p.m. M & W, or in Building 8 during normal business hours. You can also make a financial donation online; please specify "food pantry."
Nourish Mobile Food Bank
Recognizing that hunger is a widespread issue on college campuses, the organization Nourish Pierce County is including colleges in its schedule, starting with Tuesday nights at TCC. The Nourish truck is refrigerated, so it helps students and community members access perishable goods the Food Pantry is currently unable to provide.
How You Can Help
Nourish is always looking for volunteers to help distribute food! Contact foodpantry@tacomacc.edu to get started.
"We Triumphed Together" – TCC's Men of Distinction Program
students in the men of distinction program
TCC's Men of Distinction (MOD) Program prepares young men to get through college the same way they got through a challenging ropes course – together.
This summer 38 young men completed a short, intensive college preparation program, taking a condensed HD101 course and a math boot camp. Instructor Jashon Banks, Sr., says he helps students add to their "tool belts" of attributes that will help them succeed in college. Thanks to donor support, they were able to cap the experience by tackling the ropes courses at the YMCA's Camp Seymour.
"It's been all we hoped for and more," said CASA/MECA Director Matt Smith. "Students are coming out of their shells, they're encouraging each other, they're challenging themselves."
Student Hakeai Tome, who joined the MOD program after meeting Program Coordinator TJ Caughell in the Stadium High School Career Center, wasn't sure he could manage the ropes course. But with help from his fellow MOD students, he made it through.
"We passed together. We triumphed together," said Tome.
Tome's remark captures the spirit of the program, which aims to build a group that supports its members through graduation. Students who feel a sense of belonging are more likely to complete their programs.
"We're starting to strengthen those bonds to hopefully have them lean on each other throughout their time at TCC," said Smith.
In addition to the intensive summer program, the MOD program provides opportunities for MOD students to regularly check in with each other and with program advisors. Other types of student support include:
Advising and educational planning
Financial aid counseling
Tutoring
Library
Personal finance, financial planning and money management assistance
Time management and personal goal-setting guidance
Academic success planning and assistance
Computing resources
Award-Winning Partnership Houses Homeless Students
Recognized by the Harvard Kennedy School Ash Center for Democratic Governance and Innovation as one of the Top 25 Innovations in American Government for 2018, the College Housing Assistance Program (CHAP) is a partnership between TCC and Tacoma Housing Authority (THA) that helps homeless and near-homeless students afford housing.
Some students find their own housing and use CHAP vouchers to help with rent. Starting Feb. 1, 2019, the program also started providing dedicated low-cost apartment units for TCC students. Most units in the newly renovated Highland Flats are reserved for students, and THA is in the process of constructing an apartment complex across the street from TCC.
TCC opens the CHAP application for near-homeless students once per quarter. Students who meet specific federal definitions of homelessness may apply any time after the 10th day of the quarter.
Students who receive housing assistance from CHAP are much more likely stay in school and complete their programs than other students experiencing housing insecurity. Initial data collected from 2014 – 2016 shows that 60 percent of housing-insecure students in the CHAP program stayed in school and finished their programs, compared to 16 percent of housing-insecure students not in the CHAP program.
Students won't necessarily be required to leave their affordable housing after they graduate from TCC. The CHAP program has been so successful that THA recently expanded it to the University of Washington Tacoma. And so many TCC students transfer to UWT a percentage of the housing vouchers and dedicated microunits granted to UWT have been set aside for TCC transfer students.
Microunits
See the new microunits at University of Washington Tacoma and find out how getting an apartment in the Highland Flats helped TCC student Ishae Gainous balance school and family.
CHAP Story
Read about how the CHAP program helped TCC alumnus Robin Ross finish her program and graduate.
Education Project
Find out more about the Tacoma Housing Authority's Education Project.
OER = Cost Savings + Increased Completion
Open Educational Resources (OER) replace costly textbooks with open-source teaching materials. TCC instructors save students more than $1 million per year by teaching with OER.
Achieving the Dream Study Shows that OER Improves Student Experiences
A new Achieving the Dream (ATD) study confirms what our OER class exit surveys tell us: OER gives students more than just cost savings. More than 60% of students in the study reported an improved educational experience in OER classes.
The ATD study reveals that part of that improved educational experience comes from the cost savings – in an unexpected way. Students saved $66 - $121 per course and were able to use the money they saved on other college or life expenses.
"Students explained that they 'feel better' about taking classes now that they are able to spend less money on them, and more money on other necessities, like food, gas, and rent.," reads the report.
TCC's Student Achievement Initiative (SAI) Data Shows that OER Students Do Better
TCC has gone far above and beyond other colleges in Washington's community and technical college system in the development and use of OER; data presented by keynote speaker Jared Stein at the Canvas conference this past summer shows that more than half of the $8.5 million in statewide OER savings realized by Washington's CC-Tech students happened at TCC. That's especially great news for our students because the following Student Achievement Initiative (SAI)*data points clearly demonstrate that OER classes have improved retention at TCC:
In 2015-16, OER students (students taking at least 1 OER course) were 40% of the TCC student population, but accounted for 56% of the SAI points earned by the college.
In 2016-17, OER students were 52% of the Tacoma CC student population, but accounted for 67% of our SAI points.
OER students earn higher percentage of SAI points than their percentage of the population for: Pre-College Math, 15 College Level Credits Completed, 30 College Level Credits Completed, 45 College Level Credits Completed, and Completion Points.
*The Student Achievement Initiative (SAI) is the performance funding system for Washington's community and technical colleges.
"Having early, immediate, and free access to OER content has helped TCC students spend less money, start off the quarter with the resources they need, and be successful as they continue their education here," said OER Faculty Librarian Jennifer Snoek-Brown.
Watch Jared Stein's keynote speech at the Summer 2018 Canvas Conference. (TCC segment starts at 19:20).
Watch eLearning Department Director Chris Soran explain how to find OER sections when registering for classes.
Find out more about OER at TCC, including the story of how students helped launch the program in 2011.
Getting Students Through the Gate: Themed English 101 Classes
English 101 is called a "gatekeeper" class because students have to pass it before taking upper-level classes. Our faculty have found a way to make passing through this "gate" more fun and less intimidating: themed English 101 classes.
Why take a regular English 101 when you could sign up for Michael Huffman's popular food-themed class? If that doesn't whet your appetite, you could choose a topic like social justice, sustainability, or film. There are always plenty of choices.
English 101 students all learn the same skills. But when they choose a class based on a topic that interests them, they're more likely to make it through the gate – which means they're more likely to graduate on time.
Food
Theme-based English 101 section focusing on the health implications of our national diet, along with social and environmental issues related to the world's food supply. All assignments will use APA documentation. Required text: The Omnivore's Dilemma by Michael Pollan
The Immortal Life of Henrietta Lacks
A theme-based section focused on the text The Immortal Life of Henrietta Lacks by Rebecca Skloot, students will read and discuss the book, write three research-based papers on related topics in the areas of the Medicine, Social Context, Moral and Ethical Issues, Historical Context, etc. Required texts: The Immortal Life and A Writers Reference.
The Giver
Theme-based section using 1995 Newberry Award winning book The Giver by Lois Lowry; examines Utopian ideals and Dystopian patterns in society. Required texts: The Giver and A Writers Reference.
Men's Soccer Brings Home the Trophy
The Titan Men's Soccer team brought home the NWAC trophy for the second time in two years after winning the championship match against Whatcom Community College. As a result:
Titan sophomore Alex Whiting was named tournament MVP
Head Coach Jason Prenovost was named NWAC Men's Soccer Coach of the Year
Head Coach Jason Prenovost retired from coaching as NWAC Men's Soccer All-Time Winningest Coach
Titan sophomore Alex Whiting was named tournament MVP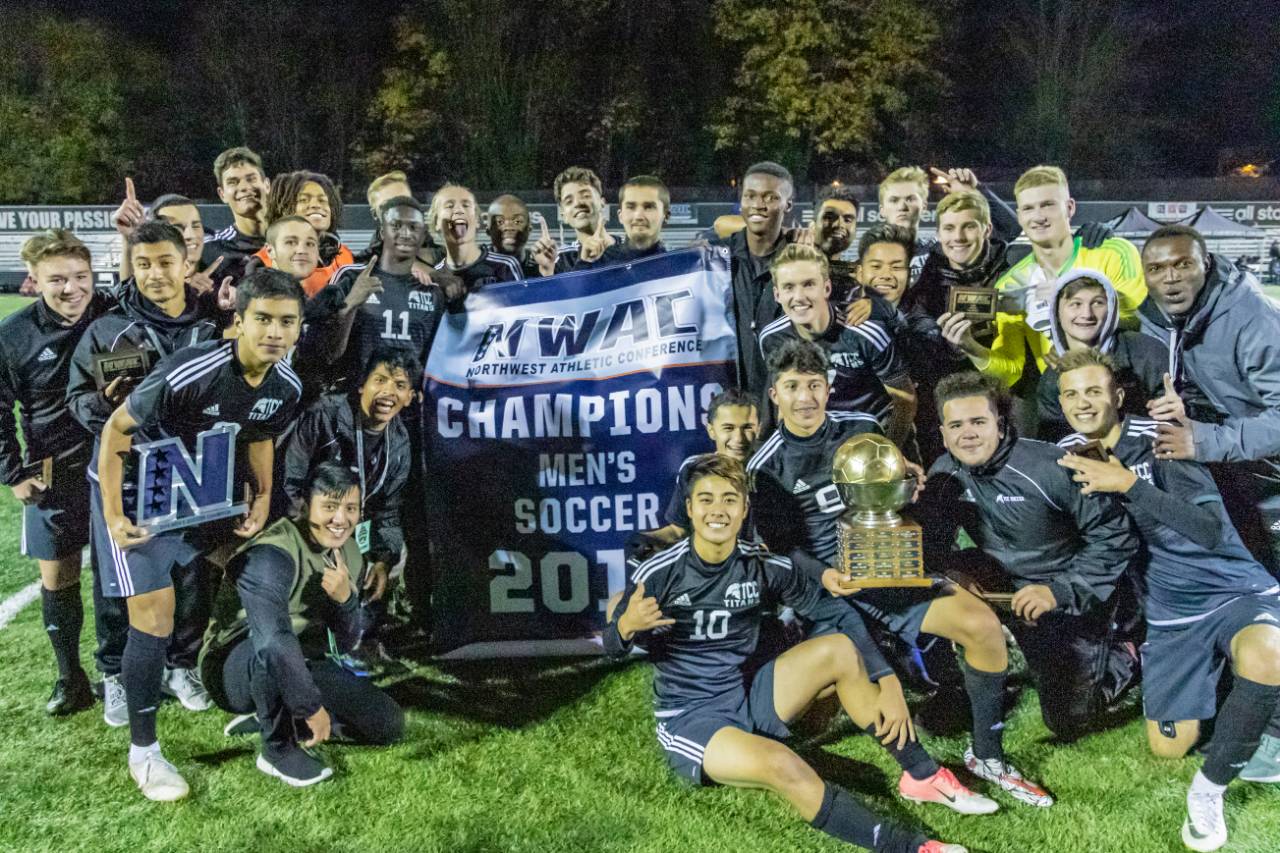 "You know these students," said Prenovost. "They are honor students, struggling students, students that transferred in, former Running Start students, ABE Students, International Program students, Fresh Start students, students working on 2 year degrees, students working on certificates, students working on transfer degrees and students that are unsure and a little lost.
Prenovost added that despite their differences, the men became a family and a great team.
"Their reason for being here is to better their lives. They come to TCC from different communities, states, countries, religions, socioeconomic backgrounds, family structures, belief systems, political views and in pursuit of their own unique goals and dreams. They are TCC students. The same one you see in your classrooms and offices every day and they are incredible."
Meet some of the new recruits for next season!
Stitching the Quilt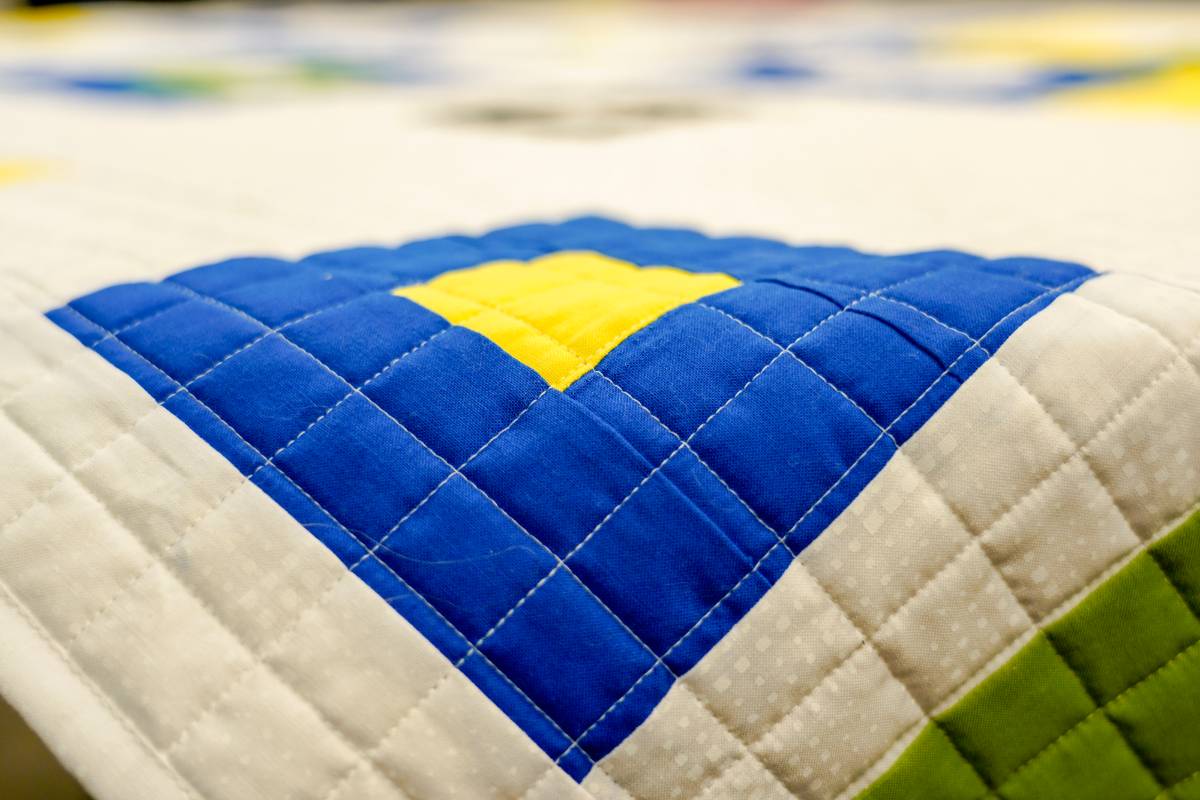 Members of the Tacoma Modern Quilt Guild donated their time and talent to design and create a quilt based on the design of the Annual Report. The organization has about 45 members, holds a "sew-in" about once a month, and donated 25 quilts to foster kids last year.
So, what makes a quilt "modern?" According to TMGQ's website, modern quilt design features more negative space, brighter colors, and a welcoming attitude toward non-traditional and asymmetrical patterns. The description certainly fits the bright, geometric quilt TMGQ came up with for the TCC Annual Report project.
TMQG member Karen designed the quilt, basing her design on an 8-inch square. Then she decided to make the quilt a little bigger, and re-designed it based on a 10-inch square. Once the design was set she dove into creating the quilt, assisted by other members of TMQG. Breeayn, who organized the project and arranged a sew-in so we could get some pictures, helped present the quilt at the February Board Meeting.
Find images from the TCC Annual Report project here, and find more examples of TMQG quilt design on their Instagram page.