Food Pantry Opens with Fall Quarter
September 21, 2018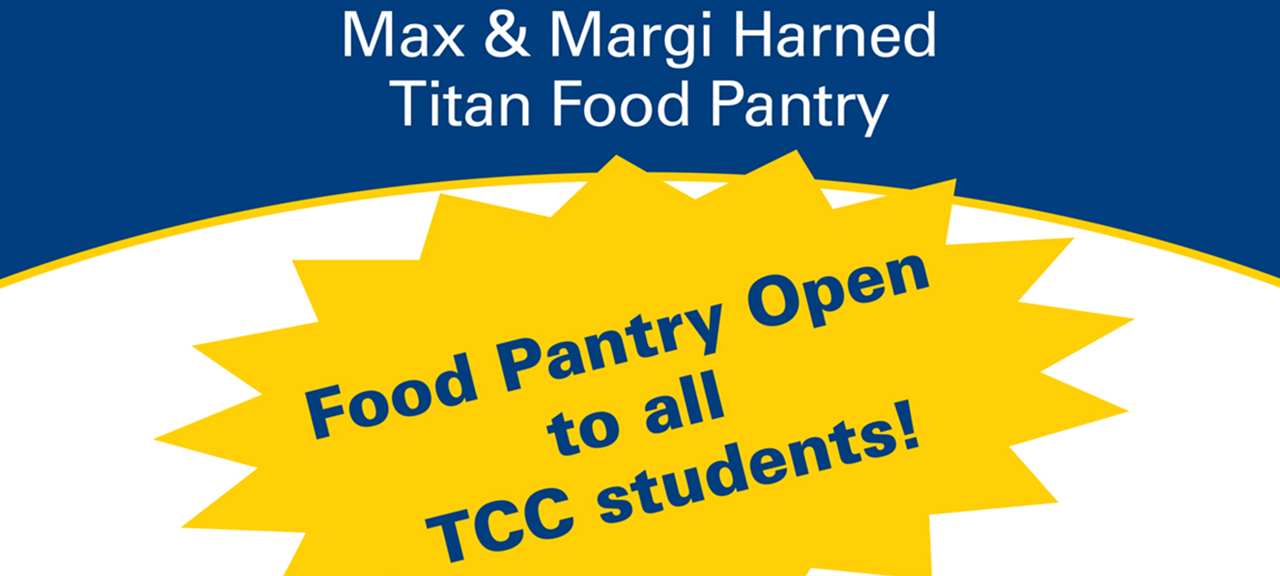 What: Max & Margi Harned Titan Food Pantry
Where: Building 17
Hours: Monday 10am-2pm; Wednesday 11am-3pm; Thursday 1-5pm
If you're a TCC student experiencing food insecurity, we invite you to stop by the new Max & Margi Harned Titan Food Pantry, open Mondays and Wednesdays in Building 17.
History
Started by former TCC students Ashley Ngo and MayLonnai Harris, the Max & Margi Harned Titan Food Pantry is TCC's response to a problem that is both national and extremely local: food insecurity among college students. When Ngo and Solie surveyed 1,000 of their fellow students, they found that 65 percent of them answered "yes" to the question "Have you ever considered stopping college to secure employment to provide household resources like food?" 40 percent reported skipping meals in order to make financial resources last for a week or a month, and 74 percent said that hunger or lack of food had caused them to not perform as well in their educational studies.
Objective
Thanks in part to a generous donation by Max and Margi Harned, the Food Pantry Steering Committee estimates that they will be able to provide 2,000 – 3,000 unduplicated students with food each year. According to the Steering Committee, "The primary objective for an on-site food pantry is to alleviate food insecurity for students so they can concentrate on their studies, complete their educational programs, and move on to the next phase of their lives. We know students can't do their best in class on an empty stomach, and we want every student to make it to the finish line!" Food Pantry Coordinator Benjamin McLean is excited to open the pantry to students and hopes it will have a positive impact on their college experiences. "We're trying to build something special to let the students of Tacoma Community College know that we're here for them," said McLean.
How You Can Help
Non-perishable items can be dropped off in Building 7, Room 4 and at designated locations around campus. You can also make a financial donation; when you fill out the online form, please specify "food pantry."