Events
See everything that is happening around campus.
Got Admissions Questions?
Whether you're exploring your options for fall quarter, have questions about the admissions process, or want to learn more about how financial aid works, we have a virtual workshop for you!
Academic Calendar
Find important dates and deadlines, including add/drop deadlines, refund and tuition payment deadlines.
Celebrate Earth Week!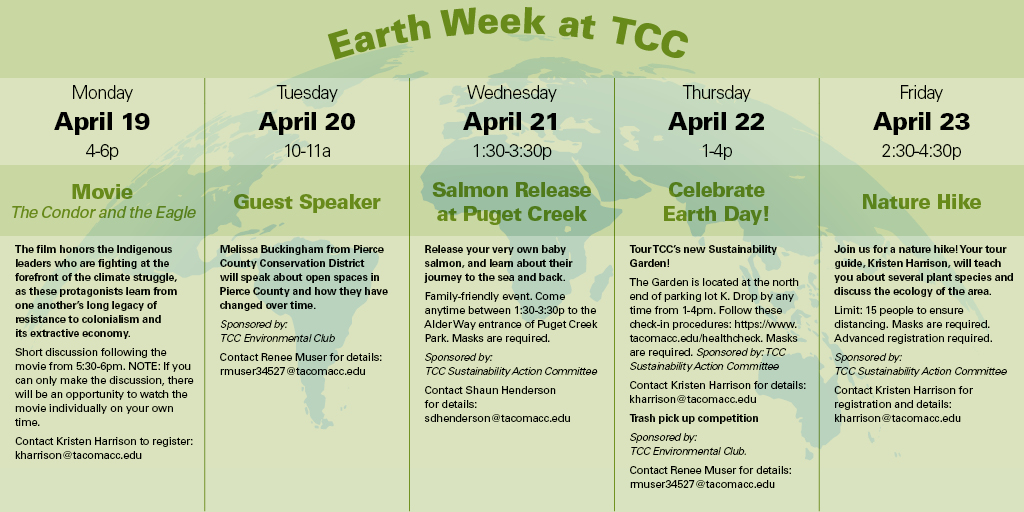 Celebrate Earth Week with a film viewing, guest speaker, salmon release, garden tour, trash pick-up contest, and nature hike!
April 19 - 23
Educational Planning Day
No classes before 3 p.m. Students, this is a chance to meet with your advisor and make sure your program completion, graduation, and transfer plans are on track. Many departments have also planned group activities. Take this opportunity to explore programs that interest you!
April 29
Student Engagement
This spring, OSE is mailing out kits every other Monday. They're free -- and first come, first served! Join the fun.
Mail-Out Mondays