Succeeding as an Online Student
Tips for online learning success from experienced online professors.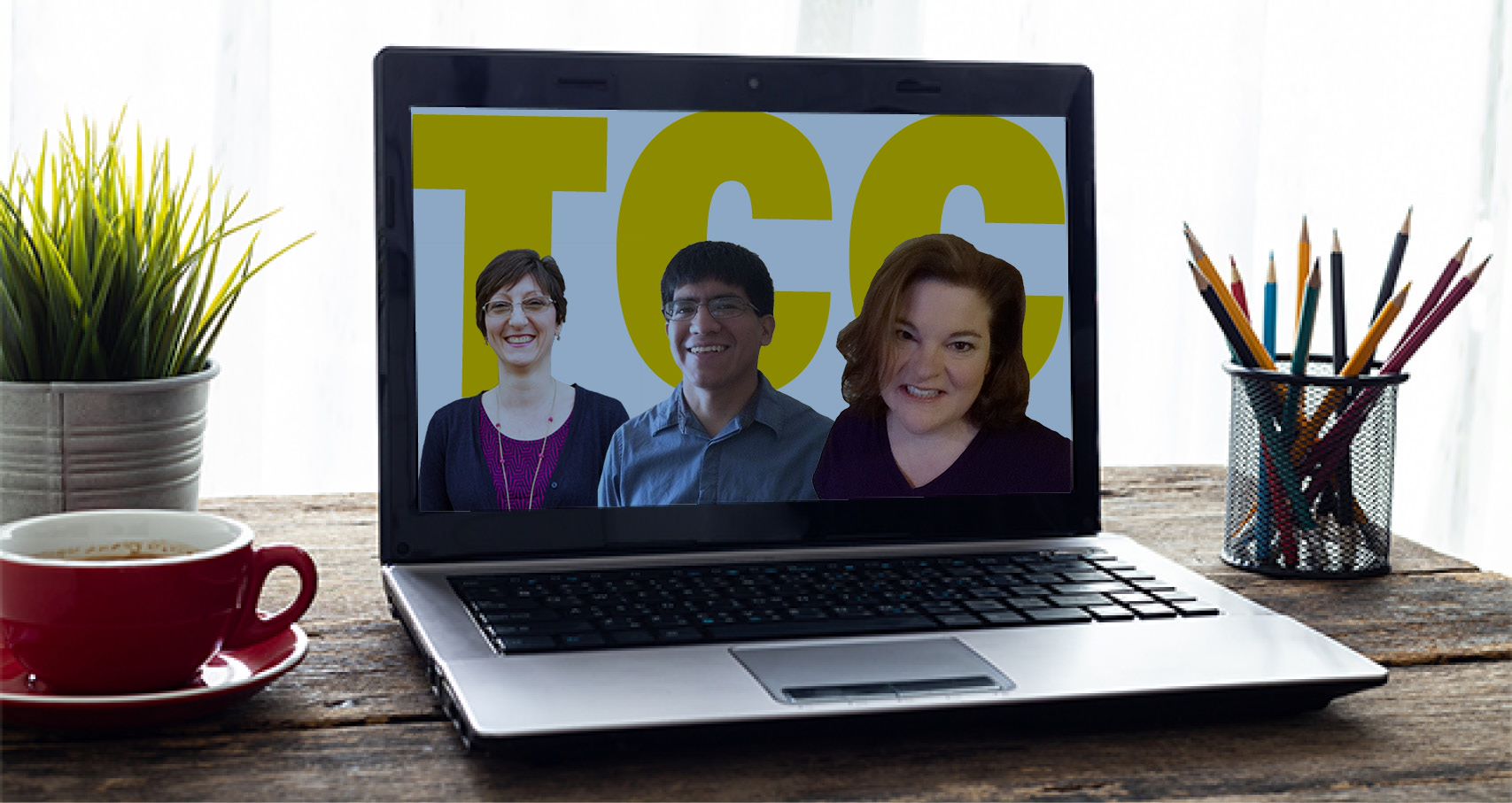 "If you're struggling, others will help you succeed." -- Ivan Ramirez Carrascal"
What Does it Take to Succeed as an Online Student?
Pam Costa teaches psychology. Corinne Jarvis teaches Health Information Management and Health Information Technology. Ivan Ramirez Carrascal teaches astronomy. But they all have one thing in common – they've all been teaching online for years.
This spring quarter, 100 percent of TCC's classes are being taught online. TCC staff and faculty worked hard to get ready for this transition. For some faculty, this has been an entirely new experience. For others, like Costa, Jarvis and Ramirez Carrascal, this is a teaching environment that is not only familiar but has shown to be rewarding, fruitful and engaging.
What does it take to succeed as an online student? Here's some advice straight from the experts.
Early Indicators: Struggle Ahead
Instructors can pick up on warning signs that a student may not do well in an online class. Here are some red flags that alert them to possible struggle ahead:
1. Leaving class participation to the last minute.
"Students who are most likely to struggle typically get a late start in the class, and have 'last minute' submissions, even on the syllabus quiz and other low stakes activities that are due the first few days of the quarter," Costa said. "They also have the fewest log-ins and least amount of time spent in the course."
2. Not responding to instructor emails.
"When I reach out to a student and don't receive a response, I am concerned," Jarvis said.
3. Missing early assignments or turning them in late.
"Late submission (or no submission) of assignments lead me to think that a student will struggle," Jarvis said.
4. Displaying a negative attitude about online learning.
"Students who exhibit a negative or overly critical attitude toward the class setting, how things are organized, presented, etc., even though they haven't had the chance to ask or be told the reasoning for that, will have a difficult time getting interested and thus will be disconnected from the class and won't do the assignments as well as others with a more positive attitude will," Ramirez Carrascal said.
Early Indicators: Signs of Success
1. Engaging early.
"Behaviors such as early communication and early completion of assignments lead me to think that a student will do well in a class," Jarvis said. "When a student initiates communication to ask a question about an assignment or a process, I feel more confident that the student is going to do well."
Costa agrees. "The most successful students become actively engaged in the class EARLY, by either responding to my 'welcome' email, or just clicking on the modules. I can 'spot' successful students who typically post to our introductory discussions and activities long before the final due date. They also check in' regularly, about 3-4 times per week."
Ramirez-Carrascal notes that it's also important to engage with classmates. "Successful students interact with the content of the class, instructor, and other students quickly and frequently. Although most of the work in my online classes can be done independently, those who try to do everything by themselves have a hard time connecting all the pieces together. And I believe they also lack the motivation of being in a supportive group environment."
2. Taking the time to proofread.
"Students who have strong writing skills tend to do well," Costa said. "When it is clear that they proof read before posting, I know they will do just fine in the course." (Need help with writing? Get tutoring online.)
3. Reaching out and responding.
"Those who communicate with me directly, tend to do better than those who go the entire quarter without asking a single question," Costa said. "A simple 'hello, here's a little background about how I learn' email often starts the beginning, of a long, interactive relationship, where the student does not hesitate to ask me a question when in doubt about homework instructions, a course policy, their grade, or even suggestions for outside readings."
"Email your instructor, call them. We're here to support you and we want you to do well!" Ramirez Carrascal said. "Please never hesitate to contact us with any questions you have. I don't use the 'It's in the Syllabus' response anymore. I know the amount of information we give you is a lot to process, so if there's something you're confused with, please ask!"
4. Collaborating with classmates.
"Another thing I'd highly recommend is to have a small study group," Ramirez Carrascal said. "When there are more students tackling the same problem, collaboration often leads to success."
Common Online Learning Challenges
Online learning poses unique challenges. Our professors agree on the biggest one for most students:
1. Time Management.
"Many times, first-time online students are not aware of the dedicated time it takes within the Canvas class," Jarvis said. "A common misconception is that a student can just quickly check Canvas once a week or so. However, this is incorrect. Canvas is replacing the classroom time that would occur in a face to face class."
Jarvis explained that a 5-credit class has 5 hours per week in a classroom, so those 5 hours should be transferred to Canvas. A student should spend 5 hours per week in a 5-credit Canvas class, in addition to the required reading and assignments outside of that time.
"This can easily present a time management challenge when the structure of being in a face to face class does not exist. Our lives are busy and it's really easy to let a day or two slip by without accessing the Canvas class. This can lead to missed information and overall poorer results."
2. Technology.
Your phone can't do it all...
Many students attempt to complete assignments using only their phones, but instructors agree: that's not the best way to work online.
"Students have a lot of problems with online distractions, especially if they try to work from their phones," Costa said. "If they are constantly getting bombarded with texts, and other notifications, then these derail any sustained focus on class work and deep processing required for actual learning."
In addition, Canvas is full of features that are designed to work on a desktop or a laptop. On a phone, they may work less well – or not at all.
"The student could be missing out on significant information just by using a device other than a computer," Jarvis said. "Many online classes require assignments to be uploaded. Students need to have the ability to use products such as MS Word or Excel, save a document to their computer/device and upload the document in Canvas." (Need a computer? Request one here).
…. And neither can Google.
Ramirez Carrascal says students are often tempted to wander off Canvas and into the Internet – and that can backfire.
"If the assignment asks not to use external resources or the Internet, please follow that advice. Trying to look for answers online is going to take more time than it will take to work on questions and/or problems with what you already know."
3. It's easy to forget to check in.
"Again, this goes back to the importance of setting aside a regular block of time to focus on online materials, just the way you'd attend a face to face class," Costa said. "Some of my top, 'straight A' face-to-face students have actually failed online classes, just because they forgot to check in regularly, causing them to miss assignment and test deadlines."
Tips to Shine Online
For best results, start early!
Pam Costa's Tips:
1. Establish a DAILY schedule, where you devote ample time (and breaks) to online learning. This includes writing down ALL of your upcoming due dates, preferably in different color, by class.
2. Take BREAKS, for every 30 minutes of online reading or activity, get up and walk around, stretch, do something different from just sitting and staring at a screen.
3. Take NOTES on what you read and watch!
4. Establish direct communication with your instructor. That way, they come to know you personally, and you've already established a relationship when things get challenging.
Corinne Jarvis's Tips:
1. Schedule daily time to access the class in Canvas.
2. Review assignment instructions ahead of time and ask questions if needed.
3. Use available support such as eLearning for technology issues and/or the instructor for class content or assignment questions.
Ivan Ramirez Carrascal's Tips:
1. Interact with your instructor, your study group, and/or other students in your class as much as you can. Ask as many questions as you have. If something isn't clear for you, it's probably not clear for many others in your class. Try not to do everything by yourself. Even if you're very comfortable with the material, your interaction with the group will elevate the rest. If you're struggling, others will help you succeed. We're not here to compete, we're here to learn and grow together.
2. Stay on schedule. Your instructors create due dates to keep everyone on track and going at the same pace. At first it might feel that is going too fast, but you'll get used to the flow soon enough. If not, read #1 above 😊
3. Stay in context of your class. While there is a ton of excellent content online, your awesome TCC instructor has already curated that material and they're giving you exactly what you need for your class. Unless, of course, the assignment is about doing research using external sources. But for the most part, the content that you need to be successful in your class is already in your class' Canvas shell. The Internet might give you quick and easy answers to some questions/problems, but it can also be very overwhelming if you don't know where to begin and where it is going to end.
4. Be positive and supportive. A nice attitude goes a long way and costs nothing.