Image of a female student serving a volleyball during a game on the campus commons
Events & Activities
From the Office of Student Engagement
Mail-Out Mondays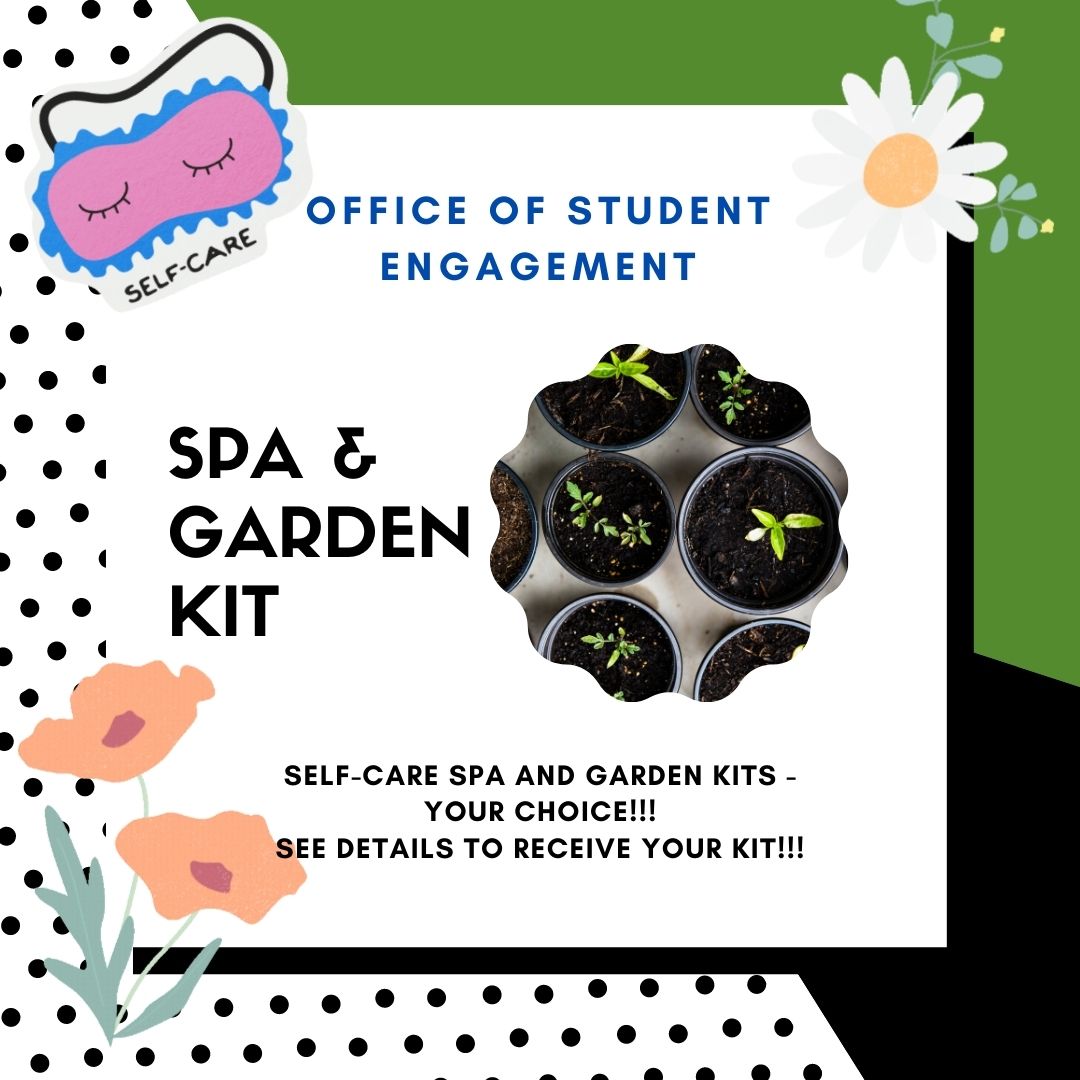 Every other week this Spring Quarter, we have special kits for currently enrolled students with cool things like garden supplies, spa day supplies, tie-dye kits, Titan swag, and more!
Have them mailed directly to you, or swing by campus to pick up your kits. We're connecting these kits with Happy Hours on the same week so you can join in on the fun 😉 Stay tuned here to see all our weekly events and activities!!
We only have a limited number of kits every other week, so please keep an eye out for the registration announcements!!
The Spa and Garden Kits will be mailed out Monday, April 12 to your address, or you can pick them up on campus on Tuesday, April 13, 4-6pm in Parking Lot D.
Registration closes on Monday, April 12 at 10 a.m. for both options!! LIMITED SUPPLIES!!!
Every Other Monday
Celebrate Earth Week!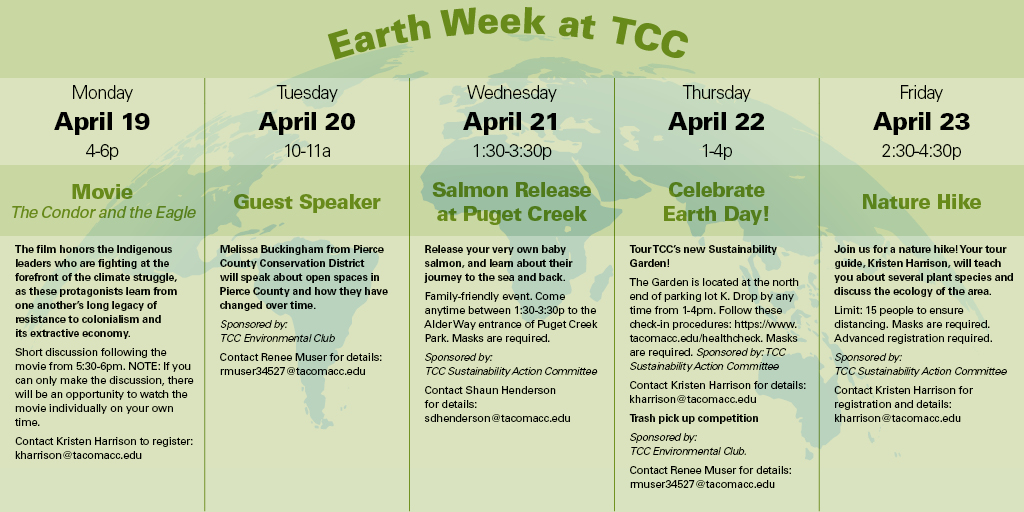 Celebrate with a film viewing, guest speaker, salmon release, garden tour, trash pick-up competition, and nature hike!
April 19 - 23
Start Planning your Spring Quarter Now!
OSE has planned a Welcome Week dinner & lunch, Student Senate Meetings, community forums and more. View the calendar and start planning how to connect on and off campus this spring!
Personal Item Drive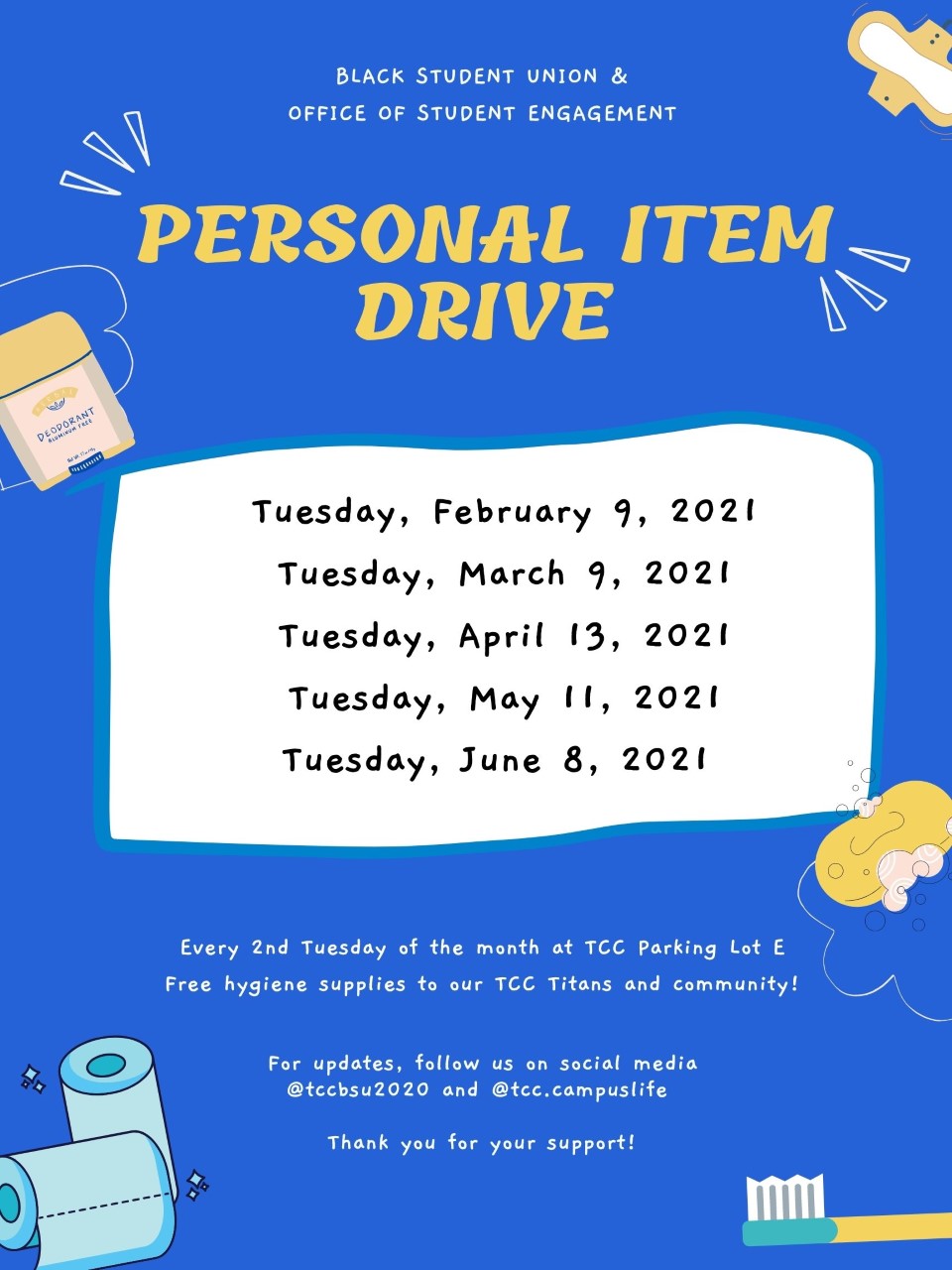 Every second Tuesday of the month, TCC's Black Student Union (BSU) gives students and community members the opportunity to pick up free hygiene supplies, 4 - 6 p.m. in TCC Parking Lot E. The Nourish Pierce County Food Truck is nearby for people who need to pick up food.
4 p.m. May 11
Connect with OSE on Social Media!
Connect on Facebook
Visit TCC Student Engagement on Facebook -- @TCCstudentengagement -- for activities, contests, and news that affects TCC students!
Connect on Instagram
Student Enagement is on Instagram! Visit their page -- tcc.campuslife -- for updates from OSE leadership, contests, and more!
Connect on Twitter
Student Engagement is on Twitter! Visit their feed -- @studentlifetcc -- for updates from OSE leadership, contests, and more!