Image of a female student serving a volleyball during a game on the campus commons
Events & Activities
From the Office of Student Engagement
Upcoming Events & Activities
Most fall quarter activities will be held online this year, but OSE is still creating fun ways for students to connect!
Fall Quarter Event Calendar
Get involved with OSE -- guest speakers, social media contests, student senate meetings and more!
Election 2020: Examining this Moment
Oct. 29: Power Hour: Your Vote, Your Power with Mayor Woodards, 10 - 11 a.m. Join event.
Nov. 3: Election Night Zoom Party, 4-5 p.m. Join event.
Nov. 4: Courageous Conversation: What Now? 3-5 p.m. Join event.
Date coming soon: Dealing with Change: A Group Response to Emotional Health Amid a Pandemic. Join event.
Your Vote, Your Power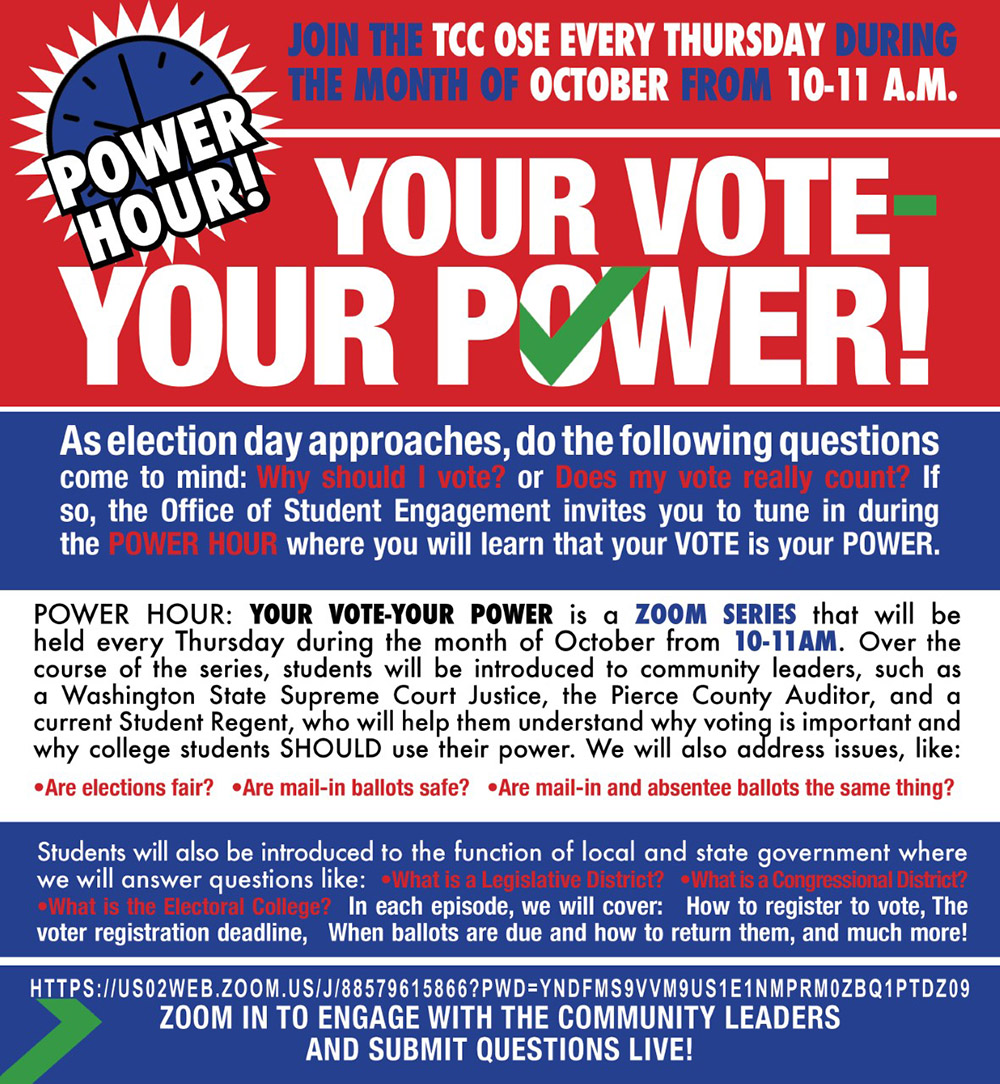 Every Thursday in October, OSE will host a 10 a.m. Zoom workshop on the voting process, answering questions from "Does my vote matter?" to "What's the difference between a Legislative District and a Congressional District?" They'll also host guests, including a member of the Washington State Supreme Court, the Pierce County Auditor, and a current Student Regent, and they'll cover the voter registration process and guidelines. Come and get involved in the democratic process!
October Thursdays, 10 a.m.
Register for Forum ​
Connect on Facebook
Visit TCC Student Engagement on Facebook -- @TCCstudentengagement -- for activities, contests, and news that affects TCC students!
Connect on Instagram
Student Enagement is on Instagram! Visit their page -- tcc.campuslife -- for updates from OSE leadership, contests, and more!
Connect on Twitter
Student Engagement is on Twitter! Visit their feed -- @studentlifetcc -- for updates from OSE leadership, contests, and more!