exterior view of ELC
Early Learning Center
Growing Up Happy & Healthy
TCC's Early Learning Center lets you pursue your educational goals while providing a safe, beautiful place for your children to learn, play, and grow... right on the Main Campus at TCC.
Our program is staffed by early childhood professionals who encourage children to develop a sense of self-worth and positive self-concept. The teachers create a daily schedule and plan learning activities based on the interests and abilities of the children.
The ELC is open to TCC staff and the surrounding community, but first priority is always with the students of TCC. Our program is paid for with funds from parent contributions, student fees, DCYF, EHS federal dollars and ECEAP state dollars.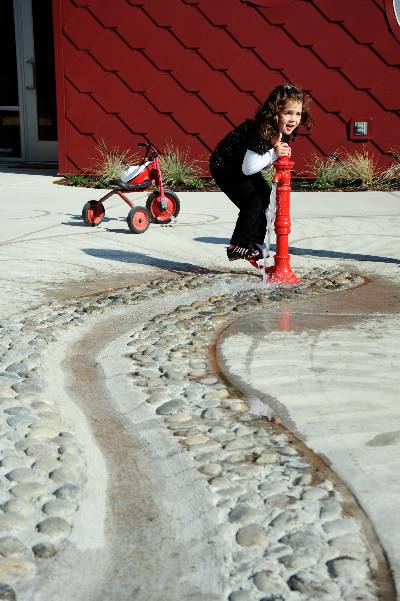 Here are some highlights about our building:
Enables student parents to pursue their education by providing a safe, affordable, and nurturing environment for their children
Licensed to serve 86 children from ages one month to five years
Meeting space for the early childhood education community
Fenced outdoor play area
Variety of toys and activities to promote learning and play
Secured building
State-of-the-art industrial kitchen that serves the entire center
Separate outdoor play areas for older and younger children
Covered outdoor play area
Observation rooms attached to each classroom with two-way mirrors for student learning
Parent Room for resources, relaxing, and studying
A Green Building
Opened October 21, 2008
13,000 square feet
Six classrooms for children
LEED Gold certified
Uses 30% less water than a conventional building
Floors are warmed

with circulating water for crawling young children
Natural light in 75% of the interior building
Sustainable materials were used throughout the center. One large play structure is constructed using 11,222 recycled plastic milk containers.
Want to Enroll at the ELC?
If you're interested in enrolling your child at the ELC, please read about our enrollment process.