Two international students on a blue background
International Student Hosting
Expand your family. Expand your community. Expand your worldview.
TCC's Office of International Programs is seeking qualified hosts to provide a secure, healthy home environment, as well as an enriching cultural experience for our international students. Hosts have a great impact on our international students' experience, offering a glimpse into the life of an American family.
The focus of Homestay is to share culture and make connections. Whether you choose to host a student from a short-term or long-term program, you and the student will have the support of TCC at every step of the way, to help make the experience rewarding and memorable for all.
Thank you for your interest in opening up your home to our amazing international students!
Join us for a Community Information Night!
Join us for an information session on hosting international students. This is a great opportunity to ask questions and discuss the "ins and outs" of hosting. We hope to see you there!
Upcoming Community Information Nights:
April 27, 2023 @ 5pm | Bldg 11 in the Senate Room
June 5, 2023 @ 5pm | Bldg 11 in the Senate Room
Basic Requirements
Student has a private bedroom (has a closet, door, and exterior emergency egress). It should also include at least 1 twin sized bed, a student desk, and dresser. Hosts interested in the shared room option should ensure rooms are large enough for two of each furniture item. Bunk beds or loft style are OK.
Hosts provide all utilities and should have a fast internet connection.
Hosts provide basic essentials such as linens, towels, toilet paper, etc. Students are responsible for their own personal use items such as toiletries
Hosts should live within a 60-minute commute range to TCC campus using public transit with no more than a 20-minute walk either to campus directly or to the nearest bus stop.

Hosts who do not meet this requirement, but are willing to provide transportation to the student, may be considered.
Check the distance from your home to TCC by using the trip planner at www.piercetransit.org
Using the "transit" option to get directions using Google maps or similar is also a good option.

Interested in Hosting? Inquire Now
Become a host to:
Enjoy a culturally enriching experience for your family
Help students reach their academic goals
Earn a stipend
Show others life in America
Support the Tacoma community
Have fun!
If you want to learn more, contact:
Rachel McGovern (she/her)
Tacoma Community College Office of International Programs
Interim Assistant Director of International Housing and Short Term Programs
international_housing@tacomacc.edu
253-566-5381
Hosting Options
Explore our options for short and long term hosting.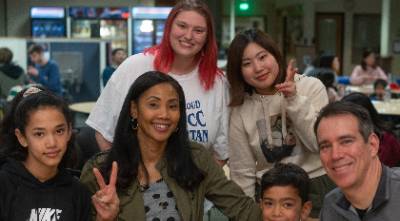 Fixed Term
Time Frame: 7 days, 21 days, or 6 months
Student Nationality: Danish or Japanese
Meal Option: Complete (learn more in Q&A Section)
Upcoming Fixed-Term Programs:
Japan:
1st cohort: Fall and Winter quarters, Sept 2023 - March 2024, 6-month stay
2nd cohort: Spring and Summer quarters, 2024, 6-month stay
Denmark:
Business students: Nov 12 -19, 2023 (tentative), 1-week stay
Physics and Communication students: Feb 2024 (tentative), 3-week stay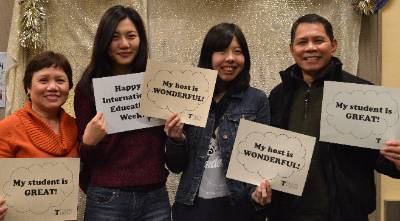 Ongoing Term
Time Frame: 3 months - 2 years
Student Nationality: All
Meal Option: Complete or no meal (learn more in Q&A Section)
A Day in the Life of an Ongoing-Term Student:
Apply to Host
Frequently Asked Questions
If you have a question not answered here, please contact us.
Any additional questions?
International Programs
Tacoma Community College
Building 11, 2nd Floor
6501 South 19th Street
Tacoma, WA 98466-6100
Phone/Fax: 253-566-5190