Disability & Intersectionality Speaker Series
Sponsored by TCC's Access Services Department and Office of Equity, Diversity & Inclusion.
About
TCC's Disability & Intersectionality Speaker Series events bring a variety of perspectives on issues related to disabililty and access services to campus. Intended to provide a platform for the underrepresented voices within the disability community, this series will address the intersection of disability and race, sexuality, sexual orientation, religion, and socio-economic status, and more.  Most events are held online, and all are open to everyone.
CART captioning will be available for online event. If you need additional accommodations to participate, please contact Katie Guernsey kguernsey@tacomacc.edu at least 7 business days in advance.
Events
International Day of People with Disabilities EDI Speaker Showcase
Moderated by Dr. Davi Kallman
Dec. 5, 9 a.m., online
An online event modereated by TCC Co-Dean of Retention and Student Success, and Access Services Director Dr. Davi Kallman, featuring:


In recognition of the United Nations International Day of Persons with Disabilities, Damon Brooks & Associates (DB&A) is thrilled to host an inaugural speaker showcase for conference organizers to find their next keynote presenter. The "EDI Virtual Speaker Showcase" will be a meaningful virtual gathering with a purpose. By harnessing the power of technology, DB&A aims to connect with thousands of industry professionals and decision-makers, delivering a transformative experience that emphasizes the significance of embracing diversity and promoting inclusivity.
The event's unique format will feature a one-hour, facilitated discussion that brings together 5 professional speakers who all live with a disability from the distinguished DB&A speaker roster. Each speaker will present a condensed version of their remarkable talk, with each segment lasting approximately 8 minutes. This dynamic approach ensures that attendees are exposed to diverse perspectives based on the personal experiences of speakers who live with a disability, fostering an engaging and enlightening dialogue around crucial EDI (equity, diversity/disability, and inclusion) topics.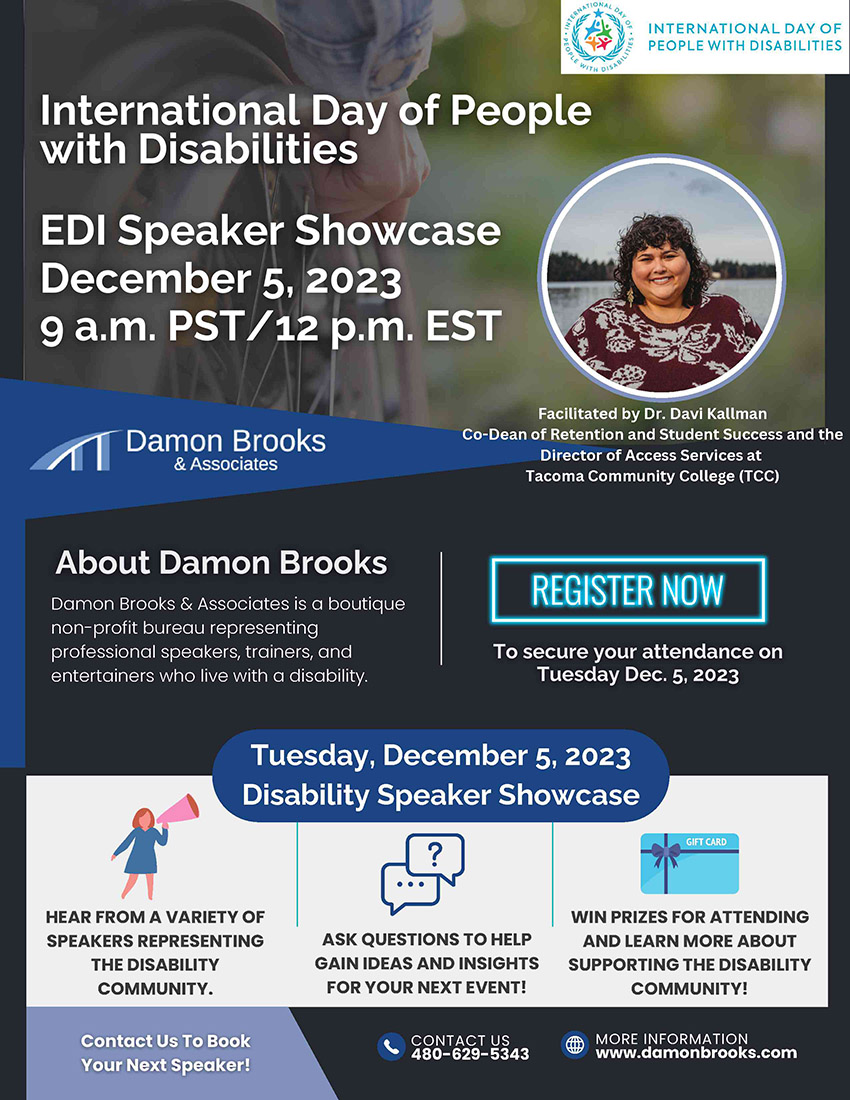 Seriously Funny: Lessons for an Inclusive Community
with Pamela Schuller
Dec. 7, 11:30 a.m.